WVHD initiative possesses a great value to expand harmonious relationship between employers and workers. To build up an effective grievance mechanism, Alert mechanism, and third-party independent mechanism in RMG supply chain to address the vulnerable workers grievances and realize labour & factory harmony. Worker's Voice help desk  to be utilised in dealing with grievances or distress calls of RMG workers, where the calls of workers from all-over India shall be attended at Delhi and be routed to the concerned factory to resolve the grievance.  WVHD ( Worker's Voice Help Desk)  will be effective tool in addressing the concerns of garment workers. It ensures that workers have an appropriate outlet to report and seek Redressal for their complaints.
We are a team of dedicated professionals committed to deliver quality services.
Services hosted on cloud
24X7 Support.
User Friendly Interface.
Dedicated Team.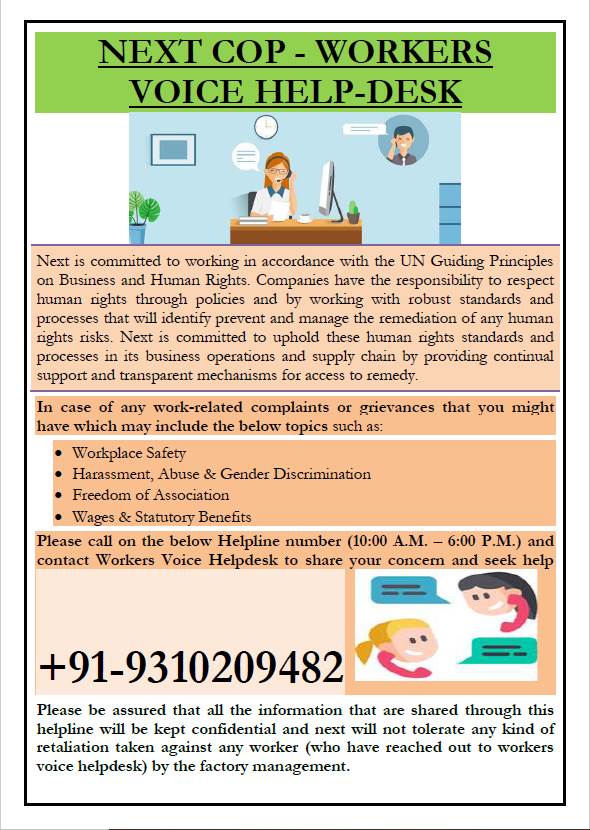 COVID-19 cases were rising in India and done widespread devastation, India is gone through a long lockdown and particularly vulnerable workers of the apparel/textile industry suffers a lot during this critical situation of a pandemic. Millions of migrant workers rushing back to their remote homes without money, food, or any proper health care. These migrant workers stuck up in city slums suffered severe health problems and acute hunger. Factories, offices, and another establishment have come to a halt.
Sensitizing the problem of these poor migrant workers of the textile industry, Team of AIDER-NEXT project is working tirelessly to connect and help the vulnerable migrant home-workers and their families. We have distributed Dry Ration kits, Cooked food, Anti- Bacterial chemical treated Face Mask and Sanitizers to the workers with the support of NEXT Plc. We had organized many community awareness sessions about the Covid-19 in the community during the lockdown, arranged the medication and COVID-19 test had been conducted among the workforce . We have distributed dry Ration kits to 4950 families of vulnerable workers, and Distribution of cooked food from our community Kitchen in the Kapashera, Badarpur, Gurgaon and Noida.
We are taking the post Covid-19 initiative of multiskilling program for these vulnerable workers and generate alternate employment and Livelihood for those workers have lost their job.
We have identified regions in Delhi-NCR with special focus on vulnerable RMG and migrant workers.
We have formulated "Mahila Chaupal Sabha" i.e. Women Café meet, conduct its meeting every Sunday. So far, we have come across grievances which are related to domestic violence, liquor addiction in male family members and inappropriate behaviour of landlords.