AIDER is working with a number of international brands such as Next Plc ,Varner, Marks & Spencer and Superdry and its value chain Garments factories and undertaking impact programs at the workplace and with community of workers and their family members. Some of impactful programme introduction as mentioned here under :-

1) Research project on promoting responsible migration in garment supply chain in both domestic and export markets having participation from government officials, bilateral organisations like British High Commission and Marks and Spencer, experts, skill building agencies, civil society organisations, business representatives beyond and within the garment supply chain including both leading apparel brands and garment manufacturing suppliers
2) Strengthening homeworking project. We have 2549 registered migrant homeworkers in supply chain system at AIDER-NEXT Project, Badarpur, New Delhi
3) Conducting Third party Social Audits
4) Factory Investigation/ Modern Slavery/ Migrant workers.
5) Factory Remediation and Child remediation in Garment Supply Chain
6) Multiple engagement programs for Garments workers
7) Seminars on POSH (Internal complaint committee and social issue) & Gender equality
8) Technical session for Garments/Textile industries to improve work efficiency from cut to logistic
9) Counselling session for workers/Management
10) Workshops for lower to higher management and workers
11) Presentation/ Public Speaking
12) Behavioural Prerequisites Micro Sessions
13) Techniques for Decision Making
14) Creative thinking in Decision Making
WORKSHOP ON PROMOTING RESPONSIBLE MIGRATION IN THE GARMENT SUPPLY CHAIN AND POLICY ADVOCACY
AIDER conducted Workshop on Promoting Responsible Migration in the Garment Supply Chain and policy Advocacy on 19th November 2019. The workshop comprised of an extensive discussion on Labor Wages, Social Security,  Human Trafficking issues, Women Safety and Sexual Harassment faced by women at the workplace, Social justice for Women and Child laborers, particularly for Migrant textile workers. Honorable Chairman / Minister of State Labor Welfare Council Government of Uttar Pradesh, Mr. Sunil Bharala, graced the event, as Chief Guest. Many intellectuals were there, including Sociologists, Anthropologists, Promoters or H R Heads of the Apparels/ textile industry, Economists, Educationists, and social workers. Few names mention hereunder apart from others. Mr. R K Gaur ( Ministry of Labour) Mr. Viraf Mehta, Human Rights expert. Mrs. Bharti Birla, Project Manager (CTA) – Sustainable Global Supply Chains, International Labour Organisation Mr. Anand Bolimera (CEO, C A) Mrs. Nidhi Dua  Country Head, India and Sri Lanka ,Marks & Spencer Ms. Sophie  and Mr Pradyumna ,British High Commission, Ms. Uma Seth  Director, Federation of Indian Chambers of Commerce and Industry( FCCI) Mr. Ranjeeb Sarma, Head of Social Compliance and Sustainability India and Sri Lanka, Marks & Spencer. Mr. Varun Chaudhary Compliance Head, India, Next PLC. UK Mr. Stephen, Sr. Compliance Manager, Varner,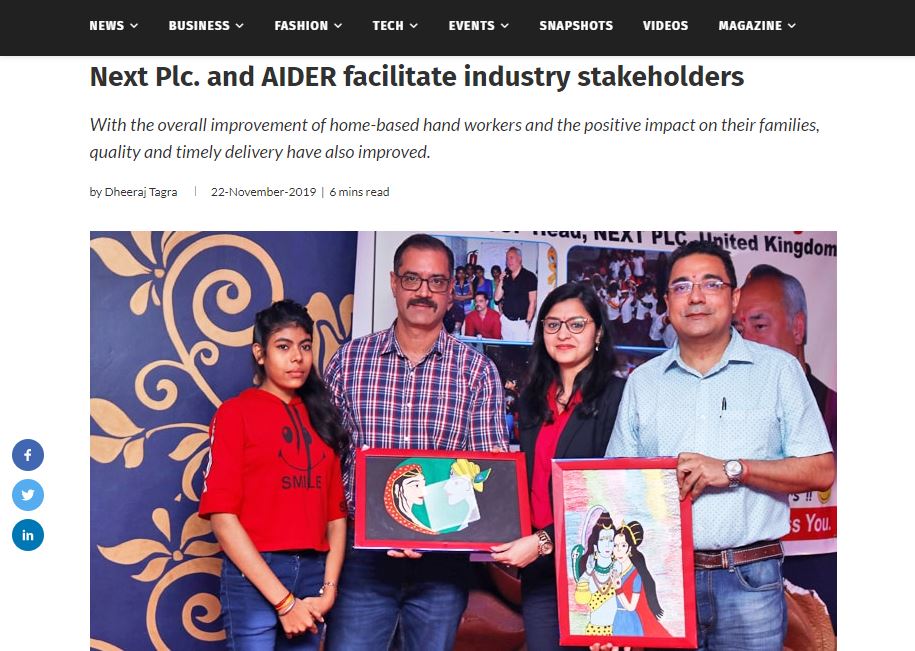 We deeply value and apprciate the honest testimonials that our partners provide us. AIDER has been receiving the patronage of NEXT PLC for it's policy advocacy and remediation initiatives.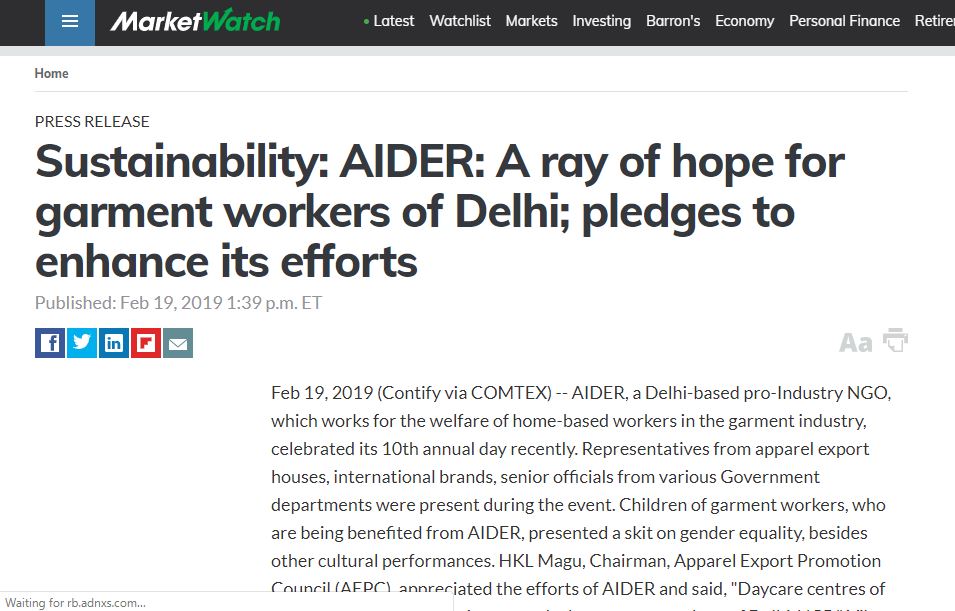 AIDER'S efforts being appreciated for contributing towards the legal reformation of factories and proper remediation to empower garment workers
Every organization working in the public domain needs to abide by the law of the land. Legal Compliance is an essential component for the smooth working of institutions. When it comes to Labor Laws, the importance of compliance is even more essential as it might invite penalties and government control on business. This can hamper the productivity as well as the efficiency of the organization. Government of India has enacted several essential Labor laws to protect and promote the interest of the labor force and prevent their exploitation. Factories need to follow a plethora of such laws.
They are listed as follows:
among many others. All these regulations and laws guarantee basic rights to the labor force regarding minimum wages, working hours, health and safety provisions, welfare provisions and workplace equality. The aim of all these laws is not just to build a congenial environment for the workforce but also facilitate friendly relationship between the workers and management. All this is necessary for the overall productivity, growth and profitability of any organization.
Aider provides Consultancy services to wide variety of industrial clients.